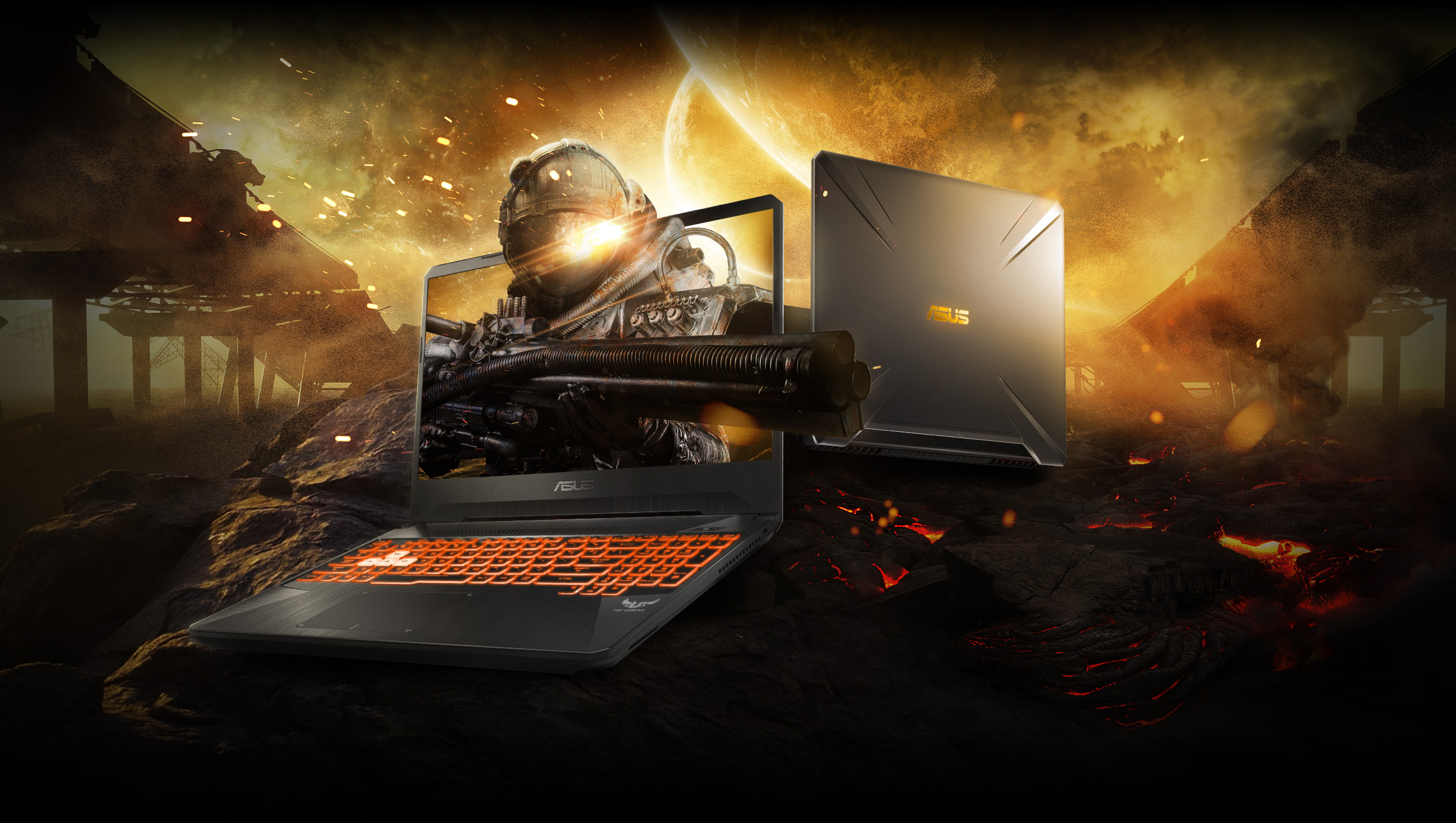 Designed to play with unmatched endurance
The ASUS TUF Gaming FX505 will change the way you understand gaming laptops. Its combination of high-end hardware and compact dimensions exceeds your long expectations, with an aggressive style that offers exceptional long-term resistance. In order to facilitate faster and more precise control, the FX505 incorporates an RGB backlit keyboard, differentiated WASD keys and Overstroke technology. Equipped with an IPS NanoEdge display and durability contrasted with the MIL-STD-810G standard, the FX505 offers immersive gaming experiences at a more than attractive price.
PANTALLA NANOEDGE IPS
DIVE INTO THE ACTION WITH THE HIGH-SPEED SCREEN
New NanoEdge design features even thinner frames (7,8 mm) that allow reducing the dimensions of the equipment and pronounce the feeling of immersion. The IPS screen up to 144 The FX505's refresh rate provides a smooth gaming experience with no blur.. He 100 % sRGB color space and wide viewing angles ensure consistent colors, even if you view the screen from extreme angles.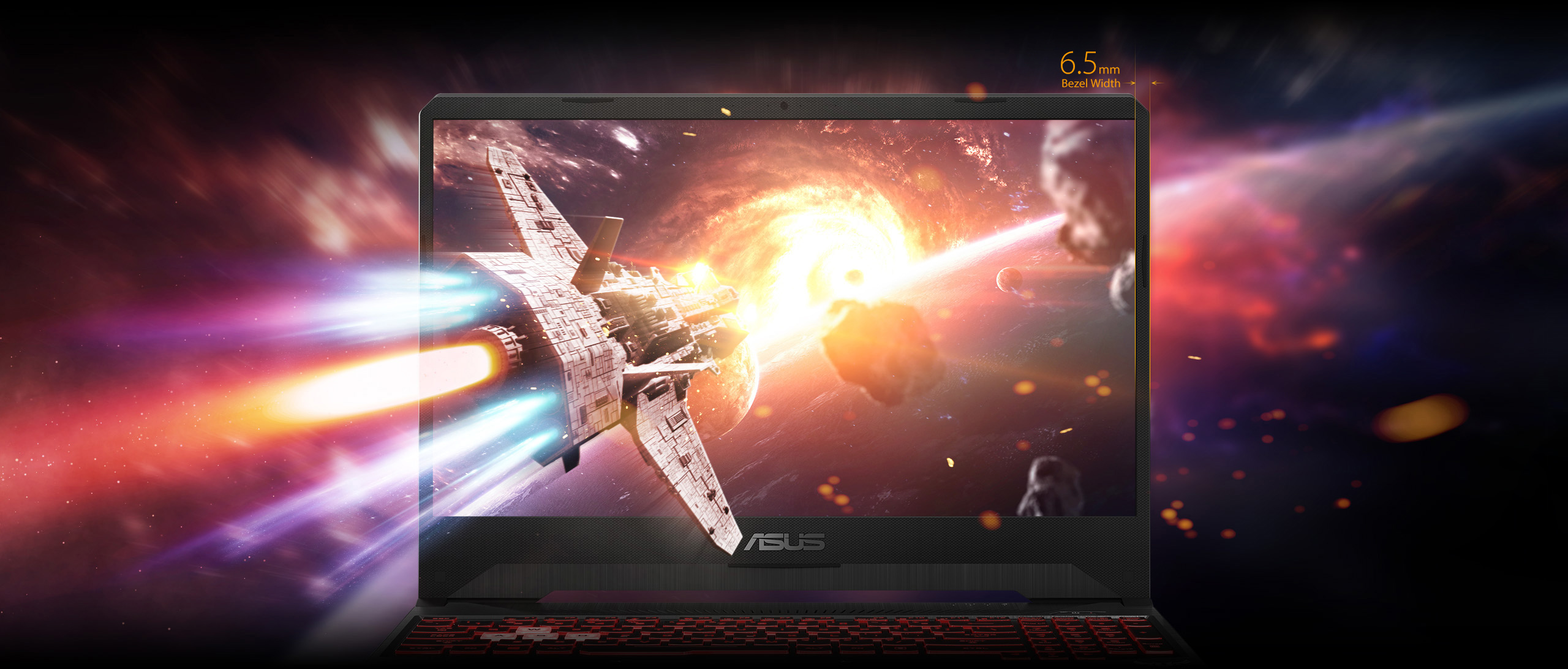 ASUS TUF GAMING
SUPERIOR DURABILITY TO THE STANDARD
Designed based on The Ultimate Force philosophy (TUF), the FX505 is manufactured in accordance with MIL-STD-810G military standard, a battery of tests that tests its resistance to conditions such as solar radiation, extreme altitudes and temperatures, among other. It is certified to withstand everyday knocks or accidental falls from the table. Strong and durable, we've pushed the FX505 to the limit to ensure you get the best experience possible.
*These tests are carried out under strictly controlled environmental conditions and under the supervision of engineers in charge of quality control.. Performing tests without the necessary control can damage the product and lead to dangerous health situations..
EXTREMELY RESISTANT
Physical impact tests highlight the resistance of TUF Gaming laptops against falls, bumps and shocks that can occur during daily use or transport. Rugged chassis withstands twice as much strength as ASUS standard quality tests. Also, Comprehensive vibration tests ensure that all components maintain their physical and functional integrity.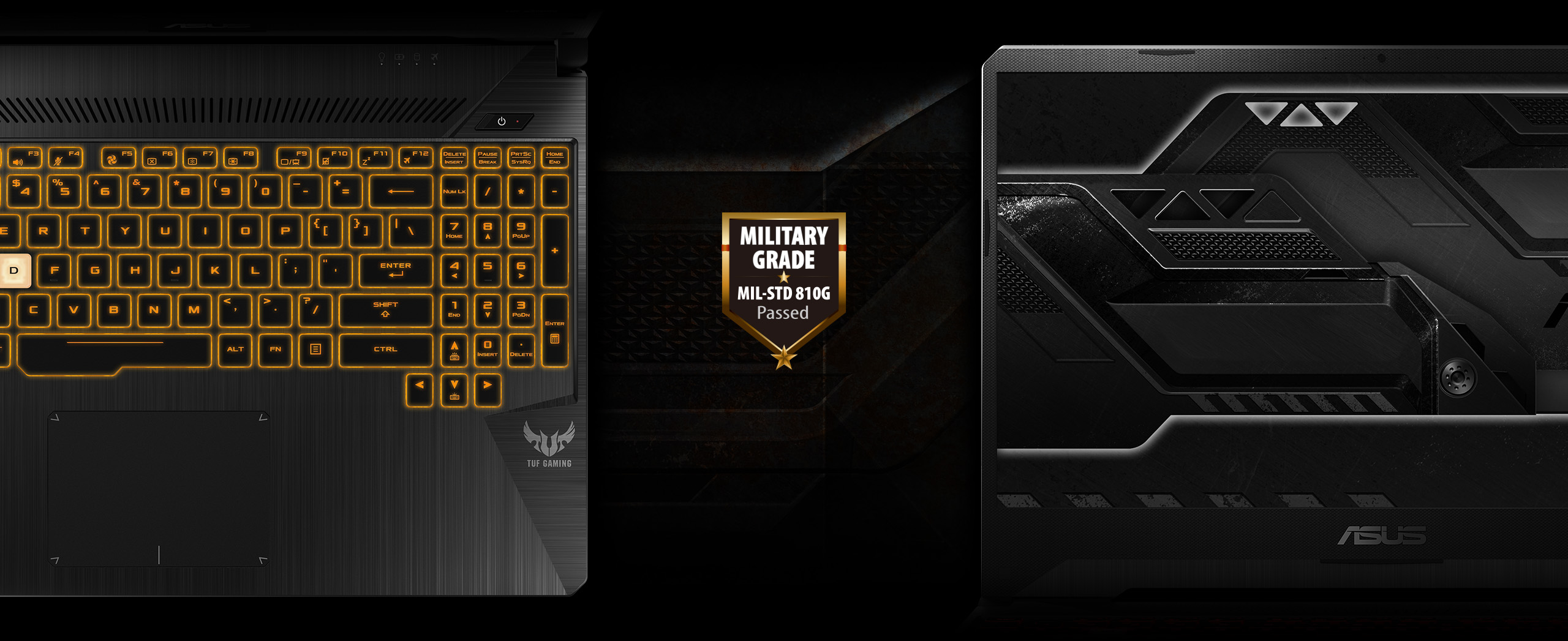 PREPARED FOR EXTREME ENVIRONMENTS
ASUS engineers have expanded environmental testing with temperature cycling, humidity and altitude tests that replicate its use during commercial flights and air transport. Solar radiation tests attest to its durability after prolonged periods of sun exposure.
SOLID CONSTRUCTION
The FX505 is available in two styles that exude robustness and performance. Aluminum Lead Gray Cover (or black plastic) Features the distinctive X-shaped design, finished with a matching brushed or sandblasted texture. The hexagonal design on the bottom of the notebook increases its structural rigidity and accentuates its aggressive lines.
BACKLIGHT KEYBOARD INSPIRED BY A DESKTOP
The FX505 has an optimized gaming keyboard with RGB lighting effects * that you can customize from the TUF Aura Core interface as you prefer. Exclusive HyperStrike technology allows you to execute your decisions with greater precision and comfort. Features a desktop-inspired design, a clearly differentiated WASD group, isolated arrow keys and separate function keys. Also, Overstroke technology records keystrokes faster for more precise and comfortable control.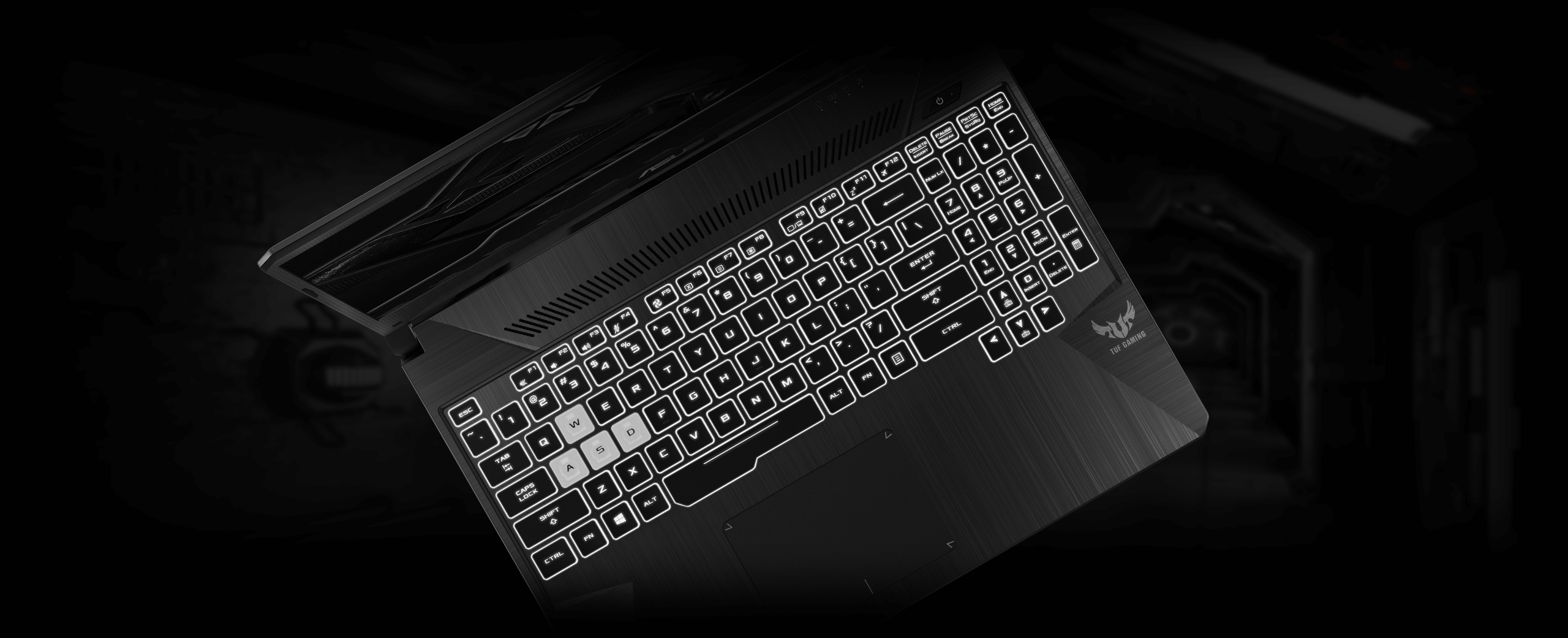 20 MILLION PULSATIONS
The FX505's keyboard offers a lifetime of 20 million keystrokes (twice the industry standard) without negatively affecting its precision or comfort.
Independent power button
Teclas Intro/Shift/Ctrl alineadas
Spaced function keys
Isolated scroll keys
Wider space bar
OVERSTROKE TECHNOLOGY
Equipped with Overstroke technology, keys provide a tour of 1,8 mm, are calibrated with a resistance of 62 grams of force (gf), which results in fast and intuitive game control.
performance
Enjoy desktop-like performance with a laptop. The GeForce® GTX series GPUs 10 multiply by 3 the performance of the previous graphics generation.
The most advanced gaming technologies
These innovative GPUs satisfy virtual reality requirements, resolution and support of multiple monitors of the latest generation of displays. NVIDIA GameWorks Technologies™ offer fully fluid cinematic action. Likewise, NVIDIA Ansel™ allows you to capture images of your game in 360 ° and see them in VR.
THERMAL DISSIPATION
HYPERCOOL TECHNOLOGY EXTENDS USEFUL LIFE
ASUS HyperCool Technology, Composed of a dust-free cooling system (ADC) y Fan Overboost, ensures an exceptional level of cooling during intense gaming sessions. Likewise, trapezoidal cap and parallel fans optimize dissipation.
ANTI-DUST DUCTS
The unique internal design of the fan module forces dirt particles out of the chassis through two dedicated anti-dust ducts; which prevents the heatsinks from becoming saturated, equipment warms up and reliability is compromised over time.
FAN OVERBOOST
The system can adjust the fans based on the CPU and GPU temperatures. You can also choose between Overboost modes, Balanced and Silence. Overboost is the most aggressive ventilation setting, allowing you to squeeze all the performance out of the FX505. Silent mode reduces fan speed and is ideal for browsing, work and watch movies.
OPTIMIZED VENTILATION
Every aspect of the FX505 has been designed to enhance its stability and efficiency. The two fans in parallel increase the air flow that passes through the system and, thanks to the trapezoidal design of the lid, hot air is blown out unhindered, which increases the thermal efficiency up to 25 % compared to traditional designs.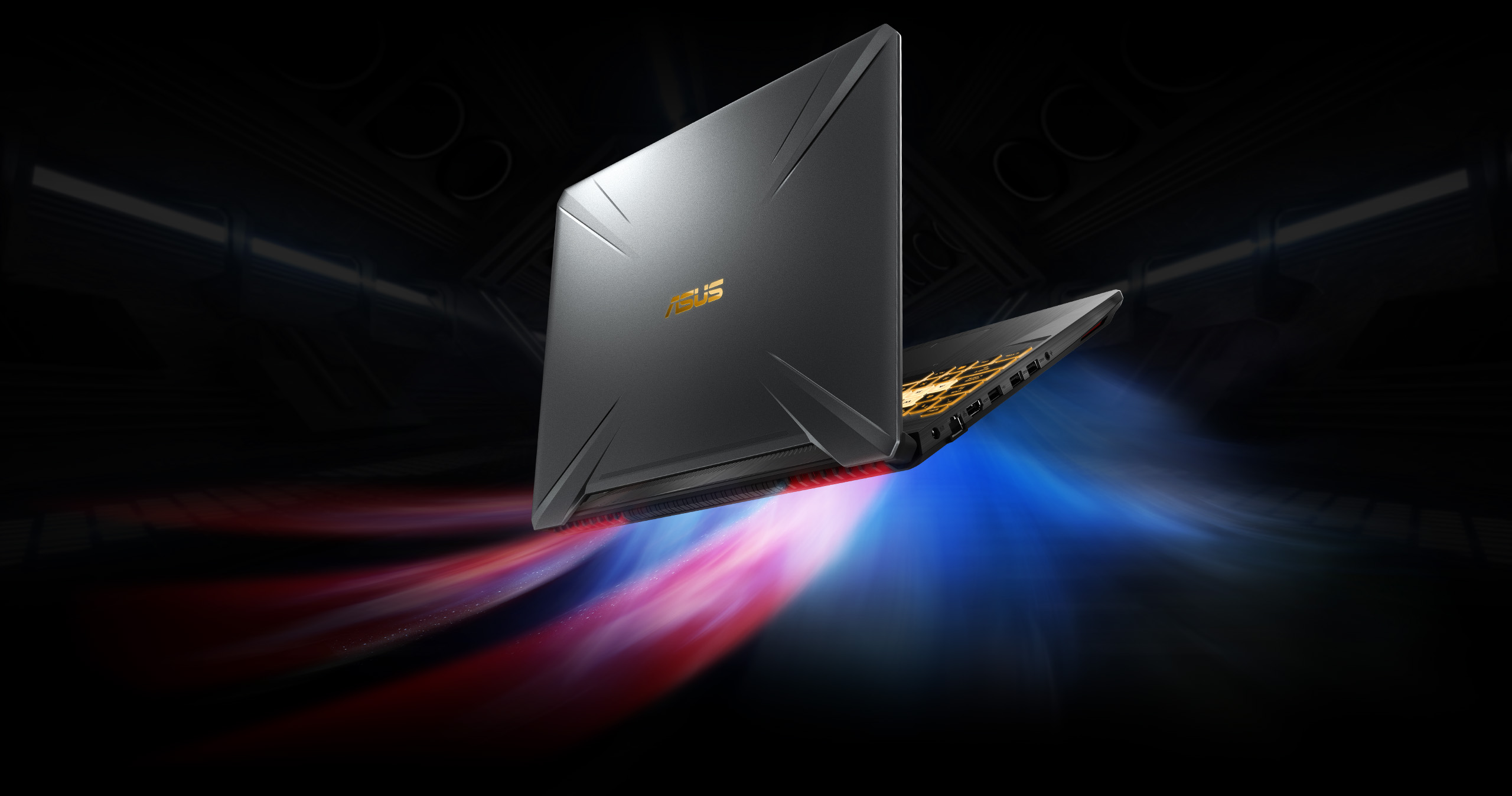 AUDIO
DTS SURROUND AND IMMERSIVE SOUND
DTS Headphone technology: X™ produces an immersive experience 7.1 Hi-Fi virtual with a degree of cinema realism, even using headphones. Offers optimized settings for games, sports and movies, as well as an equalizer to adjust the reproduction to the detail.

WI-FI
FASTER, MORE COVERAGE
The FX505 includes one of the fastest Wi-Fi ever. The new Intel 802.11ac Wave standard 2 provides speeds of up to 1,7 Gbps, 12 times faster than 802.11b / g / n. Also, configuration 2×2 MIMO extends the signal range by 30 % regarding designs 1×1. Play your favorite movies in high resolution or play online with a more stable connection, even if you are away from the router.

EASY ACCESS PORTS INTERFACE
The FX505 incorporates a complete port interface with a USB 2.0 and two USB 3.1 Gen. 1 type A for your peripherals, and an HDMI 2.0 to connect an external display. All ports are located on the left side so that cables do not interfere with the mouse.