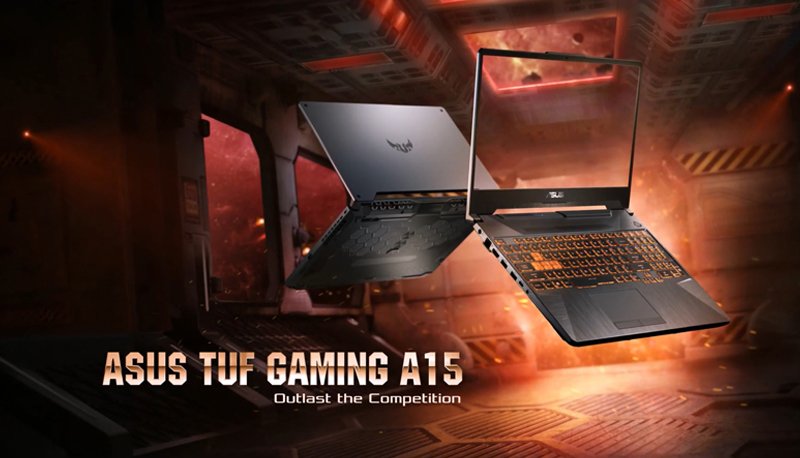 Designed to play with unmatched endurance
Designed for serious gaming and real-world durability, the TUF Gaming A17 is a Windows gaming laptop 10 Fully loaded pro that can lead you to victory. Powered by the latest AMD Ryzen CPU ™ 7 y GPU GeForce® GTX 1660 You, action packed game is fast, fluid and fully saturates the fast IPS-level displays up to 120 Hz. Even though it has a smaller and more portable chassis than its predecessors, This gaming laptop also features a larger 90Wh battery for superior battery life. Efficient self-cleaning cooling combines with TUF's signature military-grade durability to make this battle-tested road warrior a reliable ally for gamers on the go..
FIREPOWER
FOR ANY TASK
Armed with the strength to handle any situation, the TUF Gaming A15 offers reliable performance for gaming. Powered by up to AMD Ryzen 7 processors for top-notch multitasking performance. La GPU GeForce 1660TI de 6GB, lets you enjoy a variety of popular games at higher frame rates. Accelerate load times with a 512GB PCIe® NVMe SSD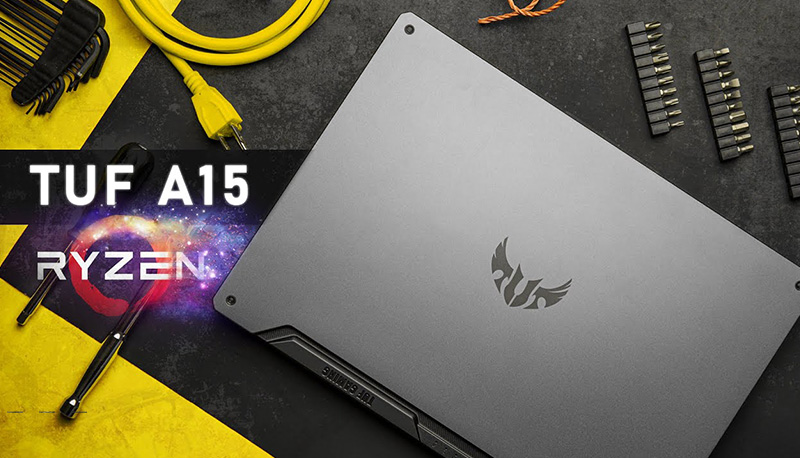 PORTABILITY
GO FURTHER AND LAST LONGER
Despite having a smaller and lighter chassis than its predecessors, A15's battery lasts longer and is lighter. The Ryzen processor ™ energy efficient and its formidable battery offer up to 12.3 hours of video playback, this machine can travel wherever you go.
*Battery life may vary depending on system configuration.
DESIGN
SUBTLE AND STRIKING HONEYCOMB GRIP
A textured Honeycomb covers the underside of the chassis with strategic cuts that function as cooling vents..
BRUSHED METAL
Contrasting brushstrokes along the body give it a sleek, futuristic look.
TUF DURABILITY
Military-grade durability makes every TUF gaming laptop a road warrior ready for all extremes of life.
SUBTLE AND CUTE
Be stealthy with the stylish Fortress Gray, o ponte audaz con crimson-striped Bonfire Black.
DURABILITY
MILITARY GRADE RESISTANCE
To get the TUF Gaming name, These laptops must succeed in rigorous MIL-STD-810H battery tests. Test devices are exposed to water, vibrations, humidity and different temperatures to ensure reliability. Reliable even in the most extreme conditions, the A15 is perfectly capable of withstanding the accidents of everyday life.
DAMAGE REDUCTION FROM FALLS
Drop tests ensure that every TUF Gaming laptop withstands unexpected drops and bumps during daily use. To meet MIL-STD-810H standards, devices are tested to withstand short distance drops. Slip the A15 into your suitcase, and take it with you everywhere without stress or worries.
TRAVELING IS EASY
Every time you take your device on airplanes, trains or cars, it experiences varying levels of vibration that can shift or damage internal components. Extensive vibration testing ensures that every part of your TUF Gaming laptop can withstand the rigors of travel without changing or losing functionality..
COLD UNDER FIRE
Whether you are walking in the desert or sunbathing on the beach, scorching heat tests ensure that you can always keep your TUF Gaming laptop within easy reach. Capable of operating in temperatures up to 49 ° C for several days, these devices can definitely handle the heat.
EXTREME COLD
Even in very low temperatures like -32 ° C, TUF Gaming laptops keep running. This incredible resistance means that they can be carried through some of the harshest and most icy environments on the planet and remain effective throughout the journey..
HUMIDITY? NO PROBLEM
The chassis of the TUF Gaming laptop is designed to withstand humidity up to 95% for long periods of time. Even if you travel through tropical climates with harsh and humid conditions.
EXPAND YOUR VISION
The TUF Gaming A15 has an IPS level panel which is ideal for enjoying fast games with adaptive sync, screen refresh rate syncs with GPU frame rate to reduce lag, and get an ultra smooth effect and immersive gameplay. Connect an external monitor for master level multitasking via USB 3.2 Gen 2 Type-C ™ con G-SYNC® habilitando DisplayPort ™ 1.4 and plays movies, 4K Ultra HD videos and games on big screen TVs with HDMI 2.0b.
KEYBOARD
OPTIMIZED FOR GAMING
Compete with a gaming-optimized desktop keyboard . Consistent RGB backlighting lets you express your own style, only. The keys are sturdy enough to withstand more than 20 millions of keystrokes for excellent reliability and precision.
TEMPERATURE
KEEPS COLD
Our comprehensive cooling design ensures that every TUF Gaming laptop can maintain high performance and effectiveness over time.. Multiple heat pipes and 3 Heatsinks quickly draw and dissipate heat from core components even during intense gaming sessions. A self-cleaning design ensures that each device's cooling system stays strong in the long run, while modes of operation balance performance and noise levels for different types of tasks.